"There are many types of action that helps protect animals and the environment, some are more hardcore than others. Ground level action comes in many forms and all are challenging. We need to protect and stop the spiraling extinction of species, the devastation of forests and oceans, and minimise other destructive acts committed against nature. We need the animals and we need to understand why. Education is a major key which enables people to make that connection". Sybelle Foxcroft – Founder Cee4life
Some methods of protection action include:
Anti poaching units

On ground aid to people living in wildlife habitat areas, preventing human/animal conflict

Animal rescue in your local area or international support

Pollution and litter advocacy

Engaging Governments for change of animal protection laws

Attending organised marches

Becoming Vegan or Vegetarian

Journalism/blogging/writing about animals, and many more
One of the most effective ways to prevent impact upon animals and the environment is to apply direct education on ground.
Australia
Cee4life (Conservation and Environmental Education 4 Life) is an Australian organisation. We are very fortunate to have an education system that affords virtually anyone accessibility for those who seek studies. Other countries are not so fortunate. Australia still has many animal and environmental problems and thankfully there are a good amount of organisations working vigilantly on these problems. Our work in Australia has been mainly focused in the marine sector including beach clean up and education to the local fishing communities regarding correct disposal of fishing lines and other items that harm marine species. We have provided aid to injured native wildlife, humane street cat population support (rescue and re home), support to dog shelters and helped with domestic and farm animals. In 2016, we began to publish delicious vegan recipes on our social media sites to encourage people to choose this healthy and humane lifestyle. This simple choice saves the lives of thousands of animals while increasing your own physical well being. We will continuing to publish recipes and encourage this humane lifestyle choice.
International
Our international protection and rescue support has focused on the Asian countries of Indonesia and Thailand, and further into India. Cee4life has also helped with many animal and environmental situations in other various countries including USA and Kenya. Information on these can be found here – http://www.cee4life.org/past-projects-investigative-reports/
Numerous negative impacts upon animals or the environment is almost exclusively due to human actions. In many of the cases that we have been involved with, there is one factor that is commonly missing. That factor is there has never been any substantial animal or environmental education available and therefore there is little understanding of the effects human actions have on nature.
Cee4life's goal is to help change that by providing educational programs to where ever we can.
Education – A Key to Protection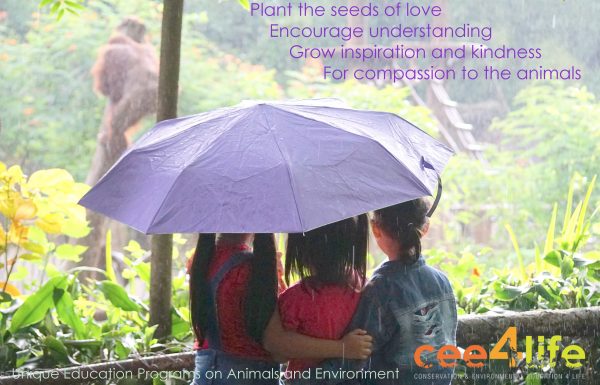 Education has the potential to stop up and coming poachers, to stop animal abuse, to save habitat, to create a network of protectors in some of the most environmentally impacted areas and to protect what is left of wildlife, and most importantly, education can ignite compassion and inspire people to care more. When people care, they will walk more gently on the earth.
Cee4life has designed a very unique education program the encompasses topics such as : the role of animals and the environment, the impact of poaching, the emotional lives of animals, the awakening of human compassion for animals, saving animals with dietary change (vegan), biodiversity and ecosystem function and much more. These programs will be available to everyone, young to old, in any type of location (classrooms, villagers, public, etc).
We have been very fortunate to secure a base in Indonesia at Bandung Zoo. Our aim is to filter these programs across Asia, and wherever else we can. Teaching compassion towards animals and protection of the environment is very needed and from previous programs we have implemented, we have seen amazing and ongoing results. All it takes is the willingness to try and Cee4life has plenty of that!
Please Support Us
We need your support to bring these education programs to life and we thankyou in advance for any support you can provide.
Support Us – http://www.cee4life.org/supporters/
For more information
If you would like to find out more about our work and programs and how you can get involved, please contact us at cee4lifeinc@outlook.com
Please browse through our website to read more about our work.
Thanks from all at Cee4life