The Tiger Temple – Report and Media articles
The Tiger Temple Thailand was a Buddhist Monestary where hundreds of tigers were born for the tourism industry. Over a 9 yer period, Cee4life conducted one of the most grueling undercover investigations in conservation history to uncover the evidence on the continuous disappearance of tigers.
The first report was given to the Department of National Parks, Plant and Wildlife Conservation, Thailand (DNP) in December 2015 and then released to the public on 22 January 2016. Soon after this the first 10 tigers were removed from the Tiger Temple.
* Link to Tiger Temple Report by Cee4life – The Tiger Temple Report
Cee4life worked with National Geographic journalist, Sharon Guynup, on the lead up to the Tiger Temple Report release. National Geographic released an exclusive report in conjunction with Cee4life Tiger Temple Report.
* Link to National Geographic Exclusive – Tiger Temple – http://news.nationalgeographic.com/2016/01/160121-tiger-temple-thailand-trafficking-laos0/
* Link to National Geographic Video – http://video.nationalgeographic.com.au/video/news/160121-thailand-tiger-temple-trafficking-vin
A second report on the sales, gifting and international transport of tiger body parts from the Tiger Temple, was given to the DNP in May 2016. Soon after this report was presented, the remaining 137 tigers were removed.
This is said to be the biggest tiger save in history.
Note: The second report has not been released to the public at this stage. A third report has been compiled which has not been released yet.
During the raids on the Tiger Temple, 40 dead tiger cubs bodies were found in jars of liquid, some in preservative and others in wine. Tiger skins/fur were found along with other animal bodies and thousands of tiger skin amulets/talisman.
In December 2016, the newly formed business, Tiger Temple Company, was in the process of building new enclosures meters from the notorious "old" venue, in addition to targeting 100+ tigers from a zoo in the Nakhon Nayok region of Thailand in an effort to relocate the tigers and reboot the tiger business.
Court cases are still pending for the disappearance of tigers and more.
Related articles
http://news.nationalgeographic.com/2016/06/tiger-temple-thailand-wildlife-trafficking-buddhism/
http://news.nationalgeographic.com/2016/06/tiger-temple-thailand-animal-abuse/
http://www.abc.net.au/news/2016-06-01/tiger-temple-40-dead-cubs-uncovered-in-freezer/7468252
https://www.nytimes.com/2016/06/02/world/asia/thailand-tiger-temple-dead-cubs.html
http://www.cee4life.org/abbot-of-tiger-temple-faces-charges-but-seeks-permission-for-100-new-tigers/
Updates
* CCR Cee4life Correspondent Report
After receiving credible information from the Australian based Not-for-Profit organisation, Cee4life (Conservation and Environmental Education 4 Life), Australian Federal Police Border Control/Immigration Officers, seized tiger body parts being brought into Australia on 2nd April 2016.
See Media Release – http://www.cee4life.org/ttbodypartsseizedaustralia/
* CCR Cee4life Correspondent Report
Abbot of Tiger Temple faces charges but seeks 100+ tiger for new zoo – http://www.cee4life.org/abbot-of-tiger-temple-face-charges/
Melani – the Sumatran Tiger of Indonesia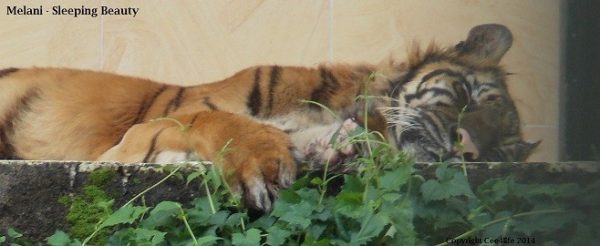 Photograph Cee4life
In the blistering heat of Surabaya Zoo, Indonesia, a 15 year old female Sumatran Tiger staggers around her enclosure, each step was a painful effort each breathe heaving, Melani was her name.
Her skeletal outside appearance of 47kg caused people to gasp in horror and shock that such a small tiger could actually be alive. She was bones with fur thrown over the top. There was a call to have her euthanized because people could not stand to see her like this. She was the animal version of a human concentration camp survivor.
But Melani had a secret. Just because her appearance was horrifying, it did not mean that she did not love life just as much as you or I do. We recognised that in her and with that knowledge, the fight to save her life began.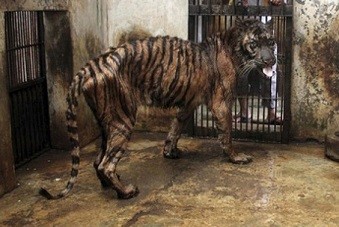 Melani in Surabaya Zoo prior to rehome. Photo supplied.
There are some places on earth where education is a difficult thing to come by and animal welfare or ethics is not a well-known subject. If we come from countries where we have full access to high levels of education then why can we not share that with our neighbours on earth? There is no reason why we can't, there is no reason why we cannot reach out a hand of friendship and offer to walk beside them and give a helping hand. The only barriers that stop us are the barriers that we put up ourselves.
Melani's plight was one which required a great deal of diplomacy, tact, compassion yet strength. The odds were stacked against her and we knew a number of miracles were needed. We asked the world to pray and the world did. With a combination of background communications urging clemency for this dear girl, and petitions signed by over 100 000 people, the Forestry Minister of Indonesia agreed that Melani would be given a chance at life. The first miracle was granted.
Although there were those in Surabaya Zoo who adored Melani, the knowledge and intense veterinary needs were not available. Melani's condition was caused because of financial short cuts taken resulting in the purchase of cheap meats for the Tigers. The meat was tainted with formaldehyde which in most cases of ingestion was a death sentence. Formaldehyde basically freezes all the internal organs and is a horrendous painful death. There were four Tigers fed this meat, three of them died, but Melani somehow struggled on.
She was moved from Surabaya Zoo to Taman Safari Bogor on a 20 hour journey by road in a special air conditioned vehicle. On arrival at Taman Safari, Melani was so weak she could not stand. The staff gently lifted her tiny body and lay her down in the intensive care section of the animal hospital in Taman Safari.
As numerous intravenous drips we connected to her frail body, her veins were hard to find. Melani was on the verge of complete renal shutdown. But somewhere inside her being the will to live was stronger than her collapsing body.
When I first saw her, I immediately ran to her, laying down and softly talking to her. I told her how much she was loved, I told her she was safe now, and I begged with her to live. The thought crossed my mind that I was I being cruel to ask this of her, but then her beautiful blue green eyes opened slightly, and she chuffed ever so softly. I knew right then that she wanted to live more than anything, she was going to fight, she had been fighting all this time to live, and she was not going to give up.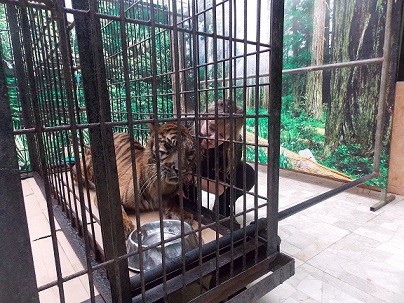 Photo by Cee4life. Melani and Sybelle Foxcroft in the intensive care section of Taman Safari animal hospital
From the very beginning, Melani was different than any other Tiger I had met. It was like she possessed tranquillity in her soul that was void of causing any harm. There are those within the science community that say it is incorrect to place a human emotion on an animal, but as a person of science and person of compassion, Melani showed more depth of soul, more happiness, and more love towards humans than many humans I have met. 1 year later, Melani is painfree, she is no longer staggering robotically, and she walks with ease and runs on the grass under the sunshine inside her highly ethical and humane enclosure. The second miracle was granted.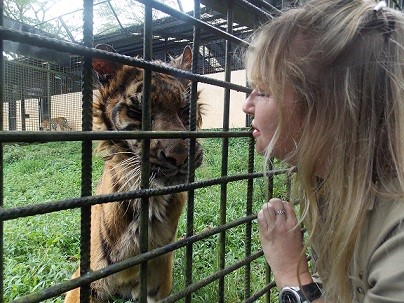 Melani on the road to recovery. Photo Cee4life
A Tiger, like many animals, are born with a nervous system, and because of this they can feel pain and therefore emotion. We humans have no right to inflict pain on any creature; it is a moral crime to do so.
Melani lived because she wanted to live.
She is an extraordinary unique living being that has the ability to show affection to the very species that hurt her so. She has brought such joy to people all over the world just because of her beautiful spirit.
There is no doubt in my entire being that Melani's capability of love is unconditional, a lesson that every human being should learn. The world is a better place just because of this little Tiger survivor.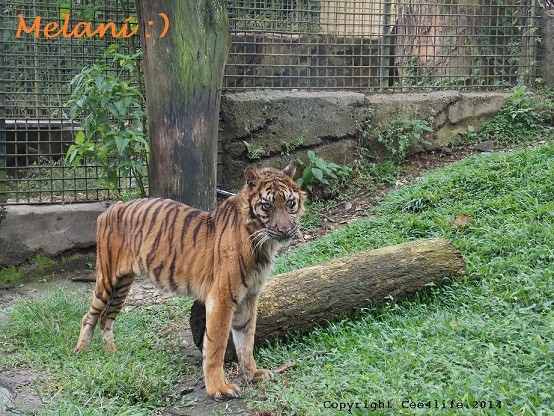 Photograph Cee4life – Melani, finally pain free
ABC Foreign Correspondent Documentary on Melani and Surabaya Zoo – Cry of the Tiger – http://www.abc.net.au/foreign/content/2013/s3894606.htm
Mara Cheetah Cubs – Kenya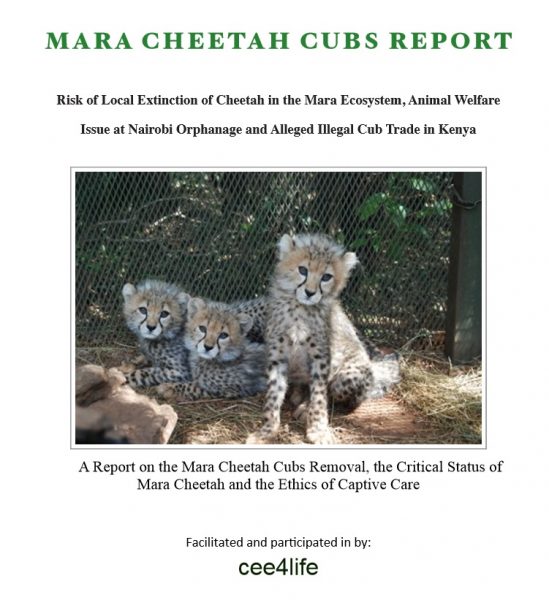 This investigation involved 3 cheetah cubs from Masai Mara who were orphaned after their mother was killed by a lion. There was real hope that these cubs would be raised wild under the watchful eye of the Mara Conservancy, who had been previously successful in the release of another cheetah. However after some highly suspicious behavior, these cubs were taken from the Mara Conservancy and placed inside the Nairobi Orphanage where they would endure inhumane care. With the help of 70+ dedicated Kenyans' this ground breaking report, the 1st of its kind in Kenya, exposed the awful politics that surrounds these precious and regionally critically endangered animals.
Please report the report at this link – http://www.cee4life.org/wp-content/uploads/Cee4life-mara-cub-report-PDF-2.pdf
Related Media