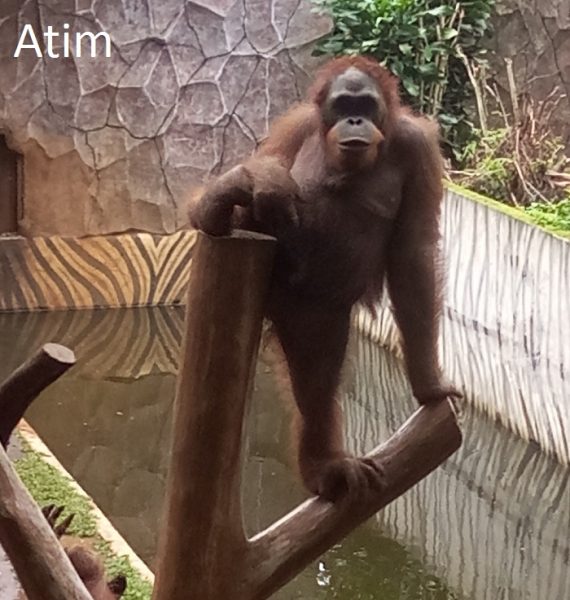 Atim – 17 years old, Bandung Zoological Gardens
A female and male have been caught by security in Bandung Zoological Gardens after they threw a cigarette into the enclosure of one of the protected orangutans. While questioning the pair, it was found that they deliberately set out to abuse an orangutan by throwing a cigarette into the enclosure and making a video in the hope that it would go viral.  Further background checks are now being carried out on these abusers.  This is not the first time that this has happened at the Bandung Zoological Gardens.
The zoo has weathered a storm of abuse after misleading video was released in May 2016 claiming sun-bears were starving in the zoo. The video focused on one of the oldest sun-bears on earth and gave the public no context.  The film went viral and caused the most vile worldwide abuse upon the venue [which is in the process of massive upgrade] in recent history.  This was followed by numerous abusive emails and phone calls to Bandung Zoological Gardens and any organisation that was helping them.  Soon after, petitions were created with false and misleading information.  Fundraising campaigns were created by unknown entities said to help the "starving" sun-bears. One notable GoFundMe from a 2017 campaign raised $54000 US, however nothing was ever given to help any animals within Bandung.  In 2016, it was proven by Indonesian Zoos and Aquariums, that there were no starving animals in Bandung Zoological Gardens, however the viral abuse continues today.
An enormous amount of hatred was incited due to continuous false and misleading information being published via a petition on the Change.org platform, which has reached over 1 million people.   This incitement of hatred has caused a number of people to copy the actions of the original May 2016 viral film, and come into Bandung Zoological Gardens to set up the animals with forms of abuse and to film it.  This was then posted online coercing the public to believe that Bandung Zoological Gardens was doing this to their animals. Earlier this year, another orangutan named Ozone, was targeted and thrown a cigarette by yet another "film-maker" and that video went viral. This is animal abuse.
In this current situation, the orangutan that had the cigarette thrown at him is named Atim and has been at Bandung Zoological Gardens for 17 years.
Atim ate the cigarette.
The Veterinarians are keeping a watchful eye on him to ensure this has not impacted his health and that he does not have any negative reaction.  
There is a mindset in some people who think it is funny to give orangutans cigarettes. This mentality needs to be ended, if not by education then by prosecution, or both.
Once all background checks have been completed on the abusers of Atim the orangutan, they will prosecuted.
While we understand that there are many captive venues in the world that have very low standards and should be closed, to harass and bully a zoo in Indonesia (that has dedicated themselves to a massive upgrades and more) to such a vile extent, has nothing to do with care or help to these animals (that can not be released or re-homed), and everything to do with ignorance and self serving agenda's.
Lastly, the GoFundMe site and Change.org platform need to enforce stricter protocols to prevent further fake fundraisers and petitions.
Further updates will be provided
Please stop hurting animals.
Media contact – cee4lifeinc@outlook.com